June 2018
Design Does* Book Release!
What can you use the Design Does book for? You can use it as a leg for your table, as a fashion accessory, as an excuse to listen to a conversation you're not supposed to or to read questions about the world and the surroundings and the possible answers design can give to them. Maybe you can even do it all together.
The book will be presented during the Barcelona Design Week.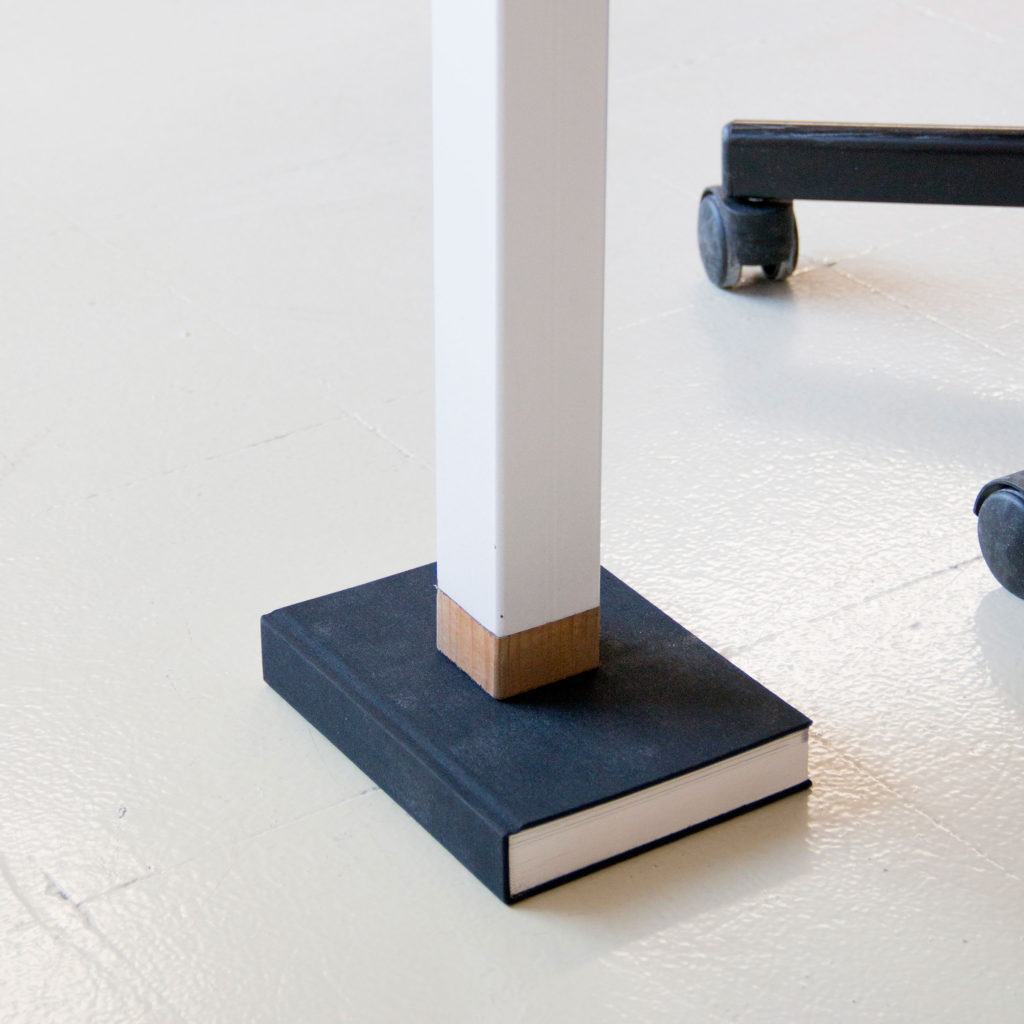 WHERE DO THINGS COME FROM?
Looking through a list of ingredients or materials used in any consumer good is, at the best of times, a journey into the murky depths of technical lingo, symbols and numbers, usually resulting in a sense of frustrating perplexity. What are all those Es in my food? Is my bedroom painted with pig? My lipstick dyed using insects? We are the masters of a material environment that we have no idea about.
DO YOU THINK YOU COULD LIVE WITHOUT PLASTIC?
You come home from the supermarket, hands weighed down by shopping and begging for mercy. Minutes later, you're surrounded by a mountain of plastic bags and similar quantities of plastic containers, trays and bottles, baffled by how it came to this. Where has all this waste come from? Why are we being invaded by plastic? Why didn't anyone warn us? Or did they maybe, but by then it was too late?
WHAT DO WE NEED TO PERSUADE?
From a tender age we begin to recognise what makes an expression affectionate or aggressive; we can differentiate between an inviting smile and one used to deceive; we learn to modify the behaviour of others through changes in our own features, by designing our faces. Persuasion might be a gesture, or perhaps a whole interface. We can all make puppy dog eyes if we need to.
HOW SHOULD DESIGN HELP?
Design, like all professional fields (and all people), has to deal with its own existential crises. Instead of reaching 40, dying its hair and buying a motorbike, design is debating between rectifying the mistakes of a past in which squandering and polluting were commonplace and starting over with a clean slate and a renewed mentality. Whether or not to help the environment is not the question; the question is how to do it.
WHAT IS THE ROLE OF THE DESIGNER?
Some industries evolve very slowly, so much so that it is hard to imagine how they don't get left behind. Others, in contrast, change so quickly that you can feel their breath on the back of your neck. Design mutates from one year to the next, one day to the next. The constant recycling of position, social roles, technical knowledge and trends demanding of such a dizzying pace, means that if a designer isn't running, they're flying; their flight destination often a question of survival.
WHAT CAME FIRST, THE FLAG OR IDENTITY?
Whether we like it or not, humans are social beings; our need to belong to one group or another influences us both consciously and unconsciously. It limits us, defines us and divides us. For a football fan it's not the same to support one team or the other, albeit the traditions, in terms of behaviour, scarcely differing among the lovers of this sport. Flags and identity throw up the same paradox as the chicken and the egg.
DO ALL CULTURES CONSUME IN THE SAME WAY?
The homogenisation of marketing strategies makes us feel we're in a space-time hole every time we travel; the inside of an international brand's store, whether in Sweden, Qatar or Canada, will always give us a sense of being in the same place. The erosion of local cultures, however, creates different forms of globalised business, creating new uses that, at times, can be greatly successful, and, at others, disastrous.
TO WHAT EXTENT CAN WE DOMINATE NATURE?
For many years humans and nature have lost an essential contact. Like a poorly-matched couple, we have had our good times and bad times (bad times especially), toing and froing between natural disasters and our relentless environmental abuses. Dominating nature or, more precisely, understanding and cooperating with it seems to be an increasingly pressing challenge on the to-do list of Earth's inhabitants.
HOW CAN WE FEED THE MILLIONS?
Our planet plays host to more people every day; our steadily improving health, decreasing infant mortality and increasing life expectancy mean people are living more… and there are an awful lot of us in this comparatively small place. Our rising numbers all need sleep, shelter and food, the latter being a crucial issue we need to find a solution to. What will there be for dinner in 2150?
HOW CAN A MATERIAL CHANGE OUR LIVES?
Materials are an intrinsic part of our existence. What was life like before plastic? Before we knew what to do with petroleum? And before we paired up copper and electricity? We lived with and relied upon other elements, each new change sending shockwaves through the world, extending the chain in the evolution of our tools. And best of all, there's no end to the curiosity that inspires each new link.
SHOULD WE AUTOMATE EVERYTHING?
Society seems to be divided between enthusiasts of anything to do with automation and Artificial Intelligence and diehard, conspiranoid and uninformed critics. Automation is publicly revealed because it "takes away jobs" or "will end up controlling us", but the comfort it affords has already quietly seeped into our society, and we would need to think long and hard about whether we are happy to give it up.
CAN TECHNOLOGY MAKE US LESS HUMAN?
Technology is dramatically changing our ecosystem; the creation of a virtual world in which codes of conduct work differently or are more lax than those of real life has meant that in all situations, from family dinners to walking down the street, we are faced with new behavioural challenges, which we need to get a hold on before they escape our grasp.
WHERE SHOULD DATA COME FROM?
There is nothing innocent behind the familiar "allow access to your location" or "insert your name here". All data we hand over in order to have quick access to a website, shop more comfortably or for a given payment method, offers clues to our behaviour, desires, choices and consumption patterns, drawing a self-portrait that is more accurate than you might like to think. A different, yet similar, problem occurs with the data we consume but do not digest. What should we do in the Age of Data?
WHAT ARE THE BOUNDARIES OF ENTERTAINMENT?
Whether or not there should be limits on what is used for comedy is an age-old question and a debate that reignites each time a new platform appears and a new barrier is broken down. However, we have reached a crucial point in history in which the invention of "infotainment", that dangerous mix between information and entertainment, and our ignorance on the subject, are changing the rules of the game. It is no longer clear that reality is real, whether or not you're supposed to laugh, or if you're best off simply holding your head in your hands.
CAN YOU SEE EVERYTHING THAT IS DESIGNED?
There is a sense that reality is getting more complicated or, at least, is speeding up to the point we can no longer keep pace. What was design yesterday, probably isn't today, or it is but with subtle differences, and tomorrow it might have mutated into something else. Design does a lot of things: it's in the chairs we sit on, the Internet, the way we speak, our lampshades and how we shop. Design isn't everything, but, in one way or another, it forms part of everything. And part of everyone